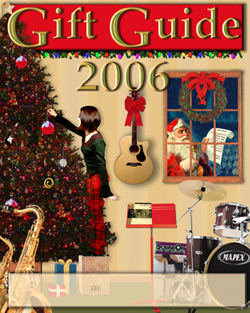 ---
Our Gift Guide cover this year featured our own Melanie Beck, Lesson Program Coordinator, decorating our fantasy tree as Santa looks on. .
Join us Christmas Eve (Sunday, December 24, from 1-4pm) at the store for live music, refreshments, and other bits of holiday cheer! We'll have faculty, staff, and friends performing, plus some special guests!
The various departments of our website show some of the holiday information, but for the best up-to-the-minute information, call us or stop in. At this time of year, while we usually have merchandise left, color choices are narrowing, and special orders have to be in stock at the supplier to arrive in time for Christmas!
Don't forget to check out our CafePress shop (www.cafepress.com/skylinemusic) for exclusive musical novelties, apparel, cards, and other gift items--they're all our own designs, and you can only get them there and (selected items) in the store!

ABOVE: Bowing to the needs of commerce, we saved space in the Gift Guide for specials and other ideas--but here in pixellated glory is our traditional cookie recipe, for those who tell us they wait every year for it so they can make these at home...
Visit us as you stuff those stockings!!
We have gifts big and small, and novelties, sheet music, accessories, and other great gift ideas. When all else fails, try the idea at right!