Bow Page
Coming soon!

Orchestra Strings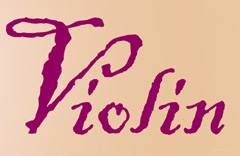 by Shannon Williams
I've been playing on D'Addario Zyex strings basically since they came out. And I was really worried when I found out they were going to "reformulate" the strings. I happened upon the Zyex while I was experimenting with many different kinds of strings to find the set that sounded best with my violin.

Before I began experimenting, I had been using Thomastik Dominant strings for my G, D, and A strings. My E string choice was in constant flux. I've literally tried just about every E string known to humankind in an effort to find one that DOESN'T whistle! I worked with my college professor to make sure the whistling wasn't a product of my own technique, and also had a luthier check the setup on my violin. No problem in either case. It's just the way my violin IS.

With the Zyex strings, it was the first time in my life that I could use a whole set of strings on this violin. I couldn't make their E string whistle no matter how hard I tried. Hooray for no more mixing and matching!

I have alternated between the Zyex strings and Pirastro's Obligato G, D, and A with D'Addario's Kaplan Solutions Non-Whistling E. Sometimes it's seasonal, sometimes it's just me being picky about the sound that I want at that moment. I always end up coming back to the Zyex.. So, it was with much trepidation that I went ahead and replaced my strings with the new Zyex Composite strings.

They settle in much like Classical Guitar strings do stretching so much during the tuning process that you can audibly hear the pitch drop as you stop turning the peg. After about three or four rounds of tuning they stop stretching as much and you can play a bit. I put a set on my violin about a week and a half ago and I have really loved playing my violin again. I needn't have worried about the reformulation. D'Addario's people know what they're doing. In my opinion, they really have made a BETTER Zyex string.

If it's possible to get a warmer, richer sound at the same time as getting a brighter more focused sound that's what these strings sound like to me. It's like taking all the good qualities of their original Zyex strings and combining it with the good qualities of Thomastik's Vision and Dominant strings, and Pirastro's Evah Pirazzi and Obligato strings and making those qualities shine through in a string that was made right here in the USA!

The only thing I've found that was a bummer is that the new E string does whistle on my violin. But D'Addario has that covered too. I've used their Kaplan Solutions Non-Whistling E before, maybe I'll end up coming back to it again.


The best part? IT ISN'T EURO BASED PRICING!!!!