Itsuki Fantasy for
Six Mallets
by Keiko Abe
Publisher: Xebec Music
Jill

is Jill Cornell, the Skyline Music Percussion Department Manager and Special Events Coordinator (which includes managing the entire Front Porch Concert Series each year!) A multi-faceted musician, she has worked as the percussion advisor for Columbia Local Schools since 2003 and has been working in drum lines since 1998. She's also an active orchestral, mallet, and drumset percussionist in the Cleveland area. Her band, Tripping Down Passion, plans to release their second CD in 2008. A pianist from a young age, her enthusiasm for piano led to mallets, which led to her love for percussion. Jill graduated from Baldwin-Wallace College in 2005, where she also earned her BA in music management and business management.
Check back each month as Jill plans to update with a new drum related topic.
August 2008: DCI Finals Coverage
Skyline roadtrip.........


June 2008: Busy Summer Already
This summer is already turning out to be busy for all of us here at the store.

The Tuesday Evening Font Porch Concerts are hitting and this year is turning out to be a drummer summer. Some of Cleveland's best jazz players are coming to the stage including Bill Ransom, Glenn Davis, Ron Godale, Paul Samuels, and the list continues...

If you need a maching outlet instead of just jazz....NAMM has sent us four free tickets to the DCI tour stop in Dayton on August 3rd. All you have to do is come to one of our Tuesday Evening Front Porch Concerts to enter your name into the drawing for that prize.

If you still need more NAMM has also sent our two free tickets to the 08 Vans Warped Tour stop in Cleveland on July 22nd. Just come to one of the Tuesday Concerts to enter for that prize as well.

Check out the concerts and sign up for the prizes. It's that simple.


May 2008: Take "Your" Child to Work Day and Krimh
Hey readers new person here today, my name's Danny, I job shadowed Jill today or as I call it Shadowing Fun!! She let me do the May blog and that's awesome. Since your in the "Drum Section"of the website I thought I might tell you about a drummer I discovered who I think will be a soon rising star in the next few years. His name is Krimh he is from Austia he has been playing drums for 4 years and is a total prodigy. Hopefully there will be two videos attached to this. The computer has been hating us all day. The first one should be him playing a song by his band Thorns of Ivy. The next one here should be him playing a song by Divine Heresy. Enjoy! : )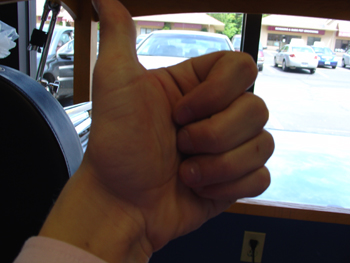 Photo taken by Danny: Self Portrait


April 2008: WGI World Finals
WGI stands for Winter Guard International and one of the world final events was hosted in Dayton, OH, April 17th through the 19th. I won't list the organizations bio information here, but do check out their website if you're interested, www.wgi.org.

The WGI World Finals were amazingly awesome! I would like to use other words to describe the event, but Dan says that I have to keep it family friendly on the site. Seriously, the event was great! It is so nice to see all of the students so into their drumlines with the support and high levels of musicianship. The complete list of participating schools and indoor drumlines along with their scores and several event videos are also listed on the website above. Definitely worth checking out. Even if you are not familiar with the event or have nothing to do with drumlines...the videos are still pretty sweet to watch.


March 2008: New Drum Books In Stock
This has been the year for new drum publications. Almost every publisher is coming out with new drum / percussion / mallet (whatever you want to call it) material!

I won't list them all here, but there are a lot of new drum books in at the store right now. From play-alongs for drum set and snare drum, to ethnic and hand percussion, to new mallet books. The print publishers are really putting some focus on the drummers and percussionists and it's so nice to see.

From a teaching stand point, I've used several of the new books with students and the play-alongs are especially nice supplement materials to go along with their regular lesson material as we head towards summer.


February 2008: Liberty DeVitto at Skyline Music
I'm keeping this one short and sweet for you because it's all about the musician and the event on this entry.

Yep you read the title right...March 15th at 3:00pm Camp Jam is going to host a clinic at the store and they are bringing in Liberty DeVitto along with a Guitar Hero competition, but on this page it's about the drums. Did I mention that the clinic is FREE?!?! Go mark your calendar now! It's going to be so much fun. Please feel free to call the store if you have any questions about the event.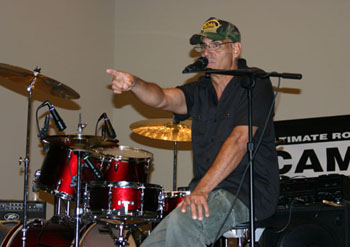 January 2008: NAMM Drum Updates
Aside from the fact that going to Annaheim was my first plane trip and it was awesome...NAMM (National Association of Music Merchants) was amazing! For some people it would have been total sensory overload with the high noise levels, immense amount of people (over 88,000), and all of the colors on the instruments...but it was so much fun. Seeing the new products and actually talking to some of the people that actually worked on the design phase of the various products is great.



There were new products from almost every drum dealer. New drumheads, new books, new sticks, new set configurations and colors, etc...the list is huge. Feel free to check out the tabs on the left to find information on some of the pages regarding new products. If I tried were to talk about all of that here...this entry would be crazy long.



And yes we're going to be expanding our drumsets, drum print music, hand drums, hand percussion "toys", sticks and mallets in the store. Within the next few weeks the new items will start showing up. Stop in and check them out.


December 2007: What's Up For The New Year
We're going to be going to NAMM (National Association of Music Merchants) in January where we will be checking out even more new drum products that they don't display at PASIC. Some companies hold off until the new year to unveil their newest products, colors, designs, etc...which makes sense, but it's so hard to be patient for two months after coming back from PASIC and knowing that there are even more new things that companies are coming out with.

Personally, I really want to check out more of the hand drum products to carry. Both Remo and LP are coming out with some wicked hand drum designs as far as tuning techniques that make it easier for beginners to tune or easier for those who hate dealing with rope tuning. I got to try some of their djembes at PASIC and they were pretty sweet.

Of course we are going to be checking out the new color finishes with Mapex and what new drum heads are going to be coming out with Remo and Evans. So, by late January we should have the newest drum set colors posted on the website as well as information about the new drum heads. Evans is coming out with a new Hybrid Series marching snare drum head and I can't wait to get it in to the store and get the drum heads for the drumline that I teach.

As soon as we come back I will definitely have information up on the website for every one to check out! So, please keep checking back and we'll keep all of you updated as we get in to the new year....already!


November 2007: PASIC 2007 Columbus, Ohio
If you're not familiar with PASIC, Percussive Arts Society International Convention, or PAS, Percussive Arts Society, check out their websites: www.pasic.org and www.pas.org. They are full of educational resources as well as musician information, upcoming events and dates, etc...
This year PASIC was hosted in Columbus, Ohio and featured some of the biggest names in percussion as far as I'm concerned.
Where else are you going to see the following:
- A duo performance featuring both Peter Erskine and Alex Acuna
- Omar Hakim do a private drumset clinic AND play with Weather Report
- Anne-Julie Caron give a keyboard clinic
- Bran Dailor bring one of the guitar players from his band
Mastadon and do a drumset clinic / mini concert together
- Dave Weckl give a drumset clinic
- The Bluecoats Drumline give a marching clinic and talk about how
they incorporate electronic technology and the program Virtual Drummer
- A world clinic / performance by Giovanni Hidalgo
- Michael Spiro and his new group BATAMBIRA mix the music of both Cuba and Zimbabwe
- A keyboard showcase concert by Marta Klimasara
- An alumni emeritus orchestral excerpt performance that included Anthony Cirone,
Alan Abel, John Beck, Arnie Lang, Stanley Leonard, Salvatore Rabbio, and Gerald Unger
- A late night concert featuring Lalo and Jack West
- Andy Narell perform and fuse steel drums with his group
And OH, by the way, this was just part of Friday and Saturday! There were a bunch of other performers on Friday and Saturday and this does not include any of the musicians that performed on Wednesday or Thursday. Not only are there a ton of performances going on all the time, but there is a exhibit hall where a lot of exhibitors come and set up their newest products and you can actually talk to the people that manufacture and create new products. If you want to know what's new at Mapex...you can talk to the guys at the Mapex booth.
I made a little bit more of a "field trip" out of this year's PASIC because I drove home Friday night and met my part of my Columbia High School drumline at the school early Saturday morning. I had been telling these kids, some of them for years, about how much fun PASIC was and once I heard it was in Columbus...it was on! I took nine of my students and one other brave chaperone to spend all day attending the convention. They had a blast. It was so much fun watching them get into the concerts and enjoying the performances. Definitely worth the two hour drive (both ways), sucker eating kids, and walkie-talkie conversations.
Next year's PASIC is supposed to take place in Austin, TX but it is definitely worth the time and money in my opinion.


Click on the "links" button at the bottom of the page to check out some of our favorite drum related artists, organizations, dealers, etc...